Adventurous elopement for a free spirit couple / Ibiza
Atlantis, Ses Salines, La Granja // Ibiza
This adventurous elopement in Ibiza was a dream come true for all of us! It has been featured on one of the most important blog in the wedding scenery, Green Wedding Shoes, and won the Junebug Choice Award as Best Elopement of 2018!
When two gorgeous wild at heart souls come together, awesome things happen!
That's exactly where our story starts with one super sexy, free spirited couple, our love warriors Jo and Kenzie.
Canadian born Kenzie with her funky pink hair, glowing complexion and sun kissed tattooed body is the perfect balance to her Italian born husband Jo's rocking tattooed leather clad frame. These wild souls met in Italy, fell crazy in love and enjoy island life together living in Lanzarote. Wild souls enjoying natural landscapes, sharing a carefree attitude and a passion for big bikes, it was only natural they chose a rocking island like Ibiza for their adventurous elopement. This awesome international couple armed with two seriously cool outfits and a Harley Davidson set out to the "white Isle" Ibiza to begin their amazing elopement story.
Arriving at the secret beach location known as "Atlantis" is an adventure in its self. This magical cove opposite the island of Es Vedra is breath taking with its incredible rock formations. A labyrinth of caves, rocks, holes, sea pools which look like the lost city "Atlantis". It was actually once a stone quarry where the rocks from here were used to build the imposing watch towers of the island as well as homes and walls of Ibiza. The imposing white rock formations create the most wonderful natural backdrop for their portrait session. Kenzie's ethereal gown by Otaduy is such a contrast to Jo's seriously black denim look, both look amazing against the white Ibiza rock.
After a long portrait session, creating the most amazing scenes in such a magical natural location, we climb back up the cliffside to celebrate their love with an intimate stone circle ceremony. The stone circle was formed by ancient people using local rocks and is a deeply spiritual place for those that connect to the deep energy of the stones. This was the most symbolic site for Jo and Kenzie to say their vows to each other on the island. We wanted to enhance the natural setting, so Claire created a simple backdrop of dried leaves, palms, branches in golden tones to an existing wild windswept bush to create the ceremony setting. In the warm golden Spanish light, Jo read his vows to Kenzie in the centre of the mystical stone circle. A very deep and spiritual connection to earth and the surrounding beauty was felt by all who witnessed this moment.
Back on the bike and an amazing ride through rustic roads towards the rural earth of the island: Jo and Kenzie chose to enjoy an intimate organic banquet and stay at Farmer La Granja. A wonderful natural farm setting away from the bright lights of Ibiza, this is a place where you connect with the earth and slow living. A simple dining experience for two under a large oak tree with rustic bar stools set alongside a black wooden bar was a good match for our couple. Relaxed and informal, the tablescape combines the textures of the rocks, the salt collected from Salinas to create wonderful contrasts.
It was important to the whole team to create a look which truly reflected the personalities of our couple and yet to remain stylish and considered. The overall look is the perfect balance of modern love for the wild at heart, we call them #lovewarriors.
//
photographer: Margherita Calati
planner: Butler & White
concept and styling: Benevent Planner
floral designer: Floral Dreams Ibiza
venue: La Granja
bridal gown: Otaduy
rings: My Golden Age
shoes: Forever Soles
stationery: Studio Alispi
hair and make up: Katy Gill and Boho Beauty Ibiza
//
Featured on Green Wedding Shoes (USA).
Winner of Best Elopement 2018 – Choice Awards by Junebug.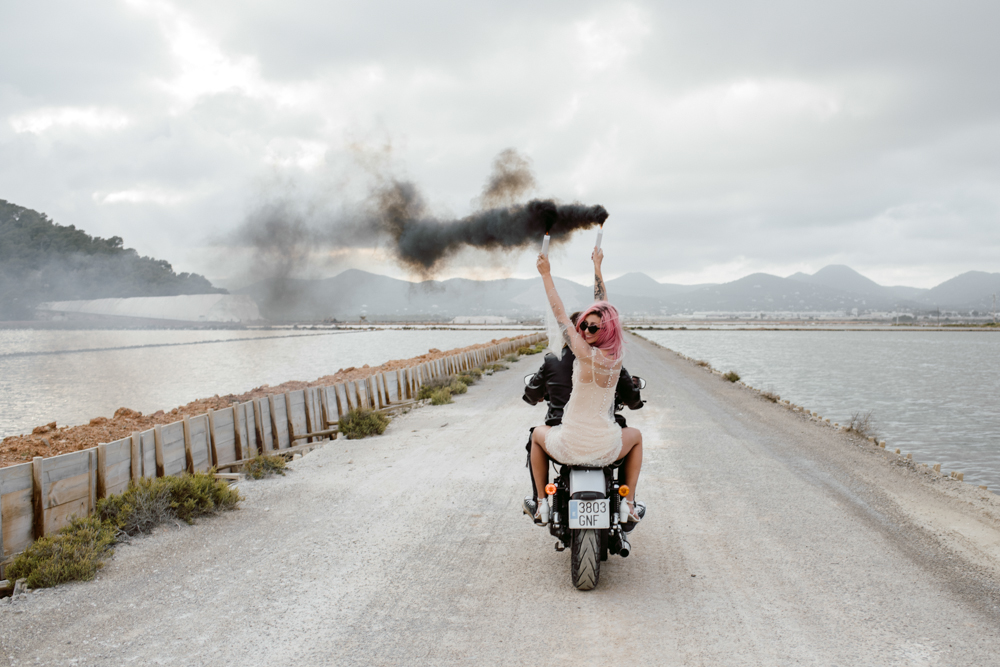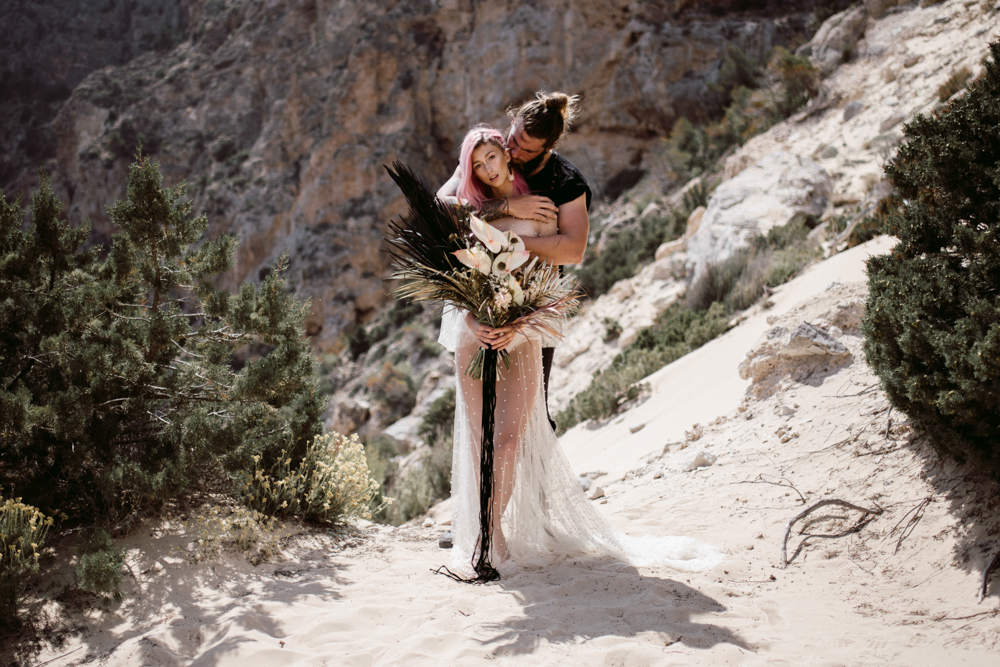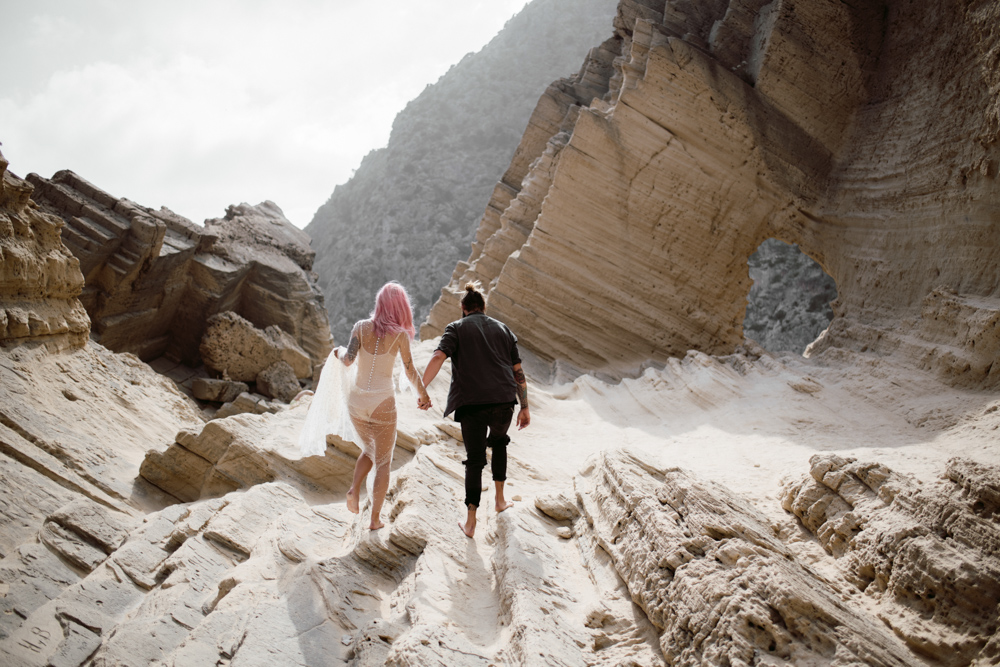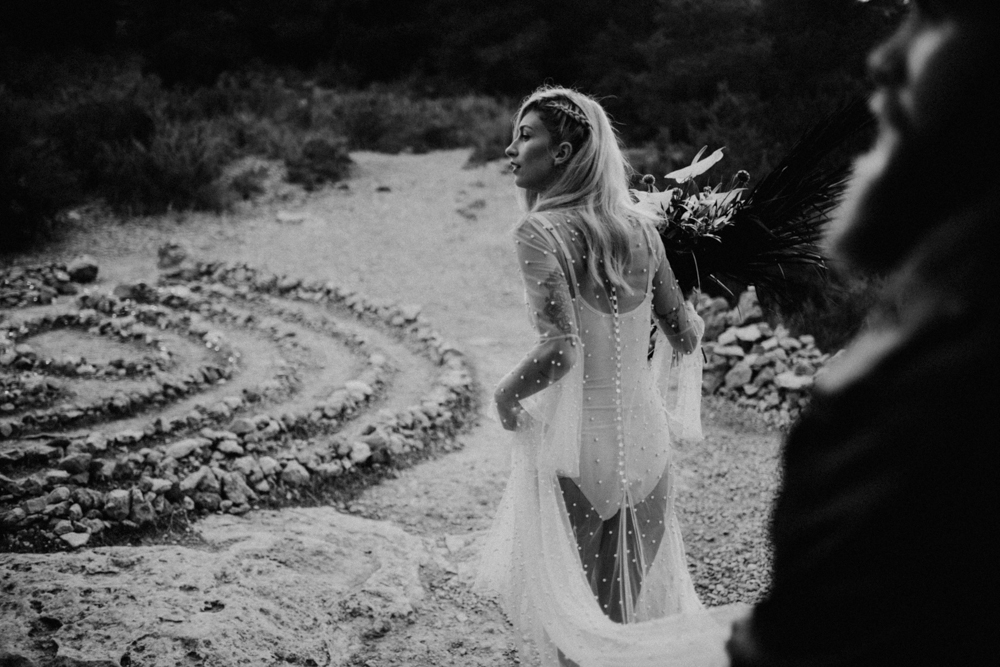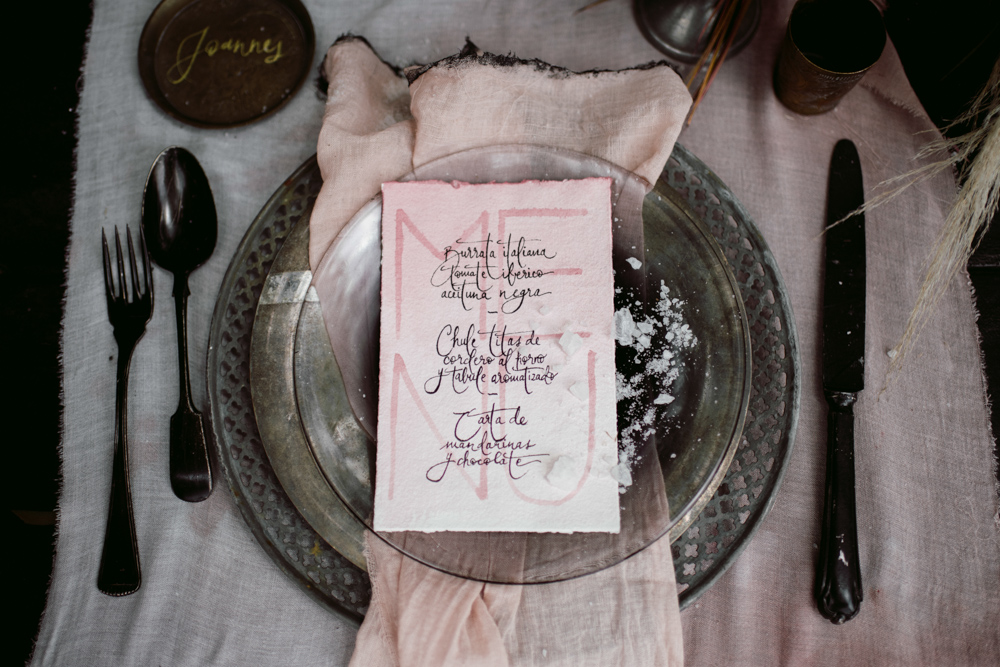 SalvaSalva